OFFICIAL VALEFEST 2022 LINEUP
The long awaited lineup for Valefest 2022 is finally here! With a variety of acts across our stages why not get yourself ready for the day by listening to our exclusive 2022 playlist with songs from this years lineup! Lineup Playlist here!
To be the first to find out who will be performing at ValeFest this year, make sure you keep an eye on our social media channels!
Previous ValeFest Line-ups:
ValeFest 2020: ValeFest Goes Virtual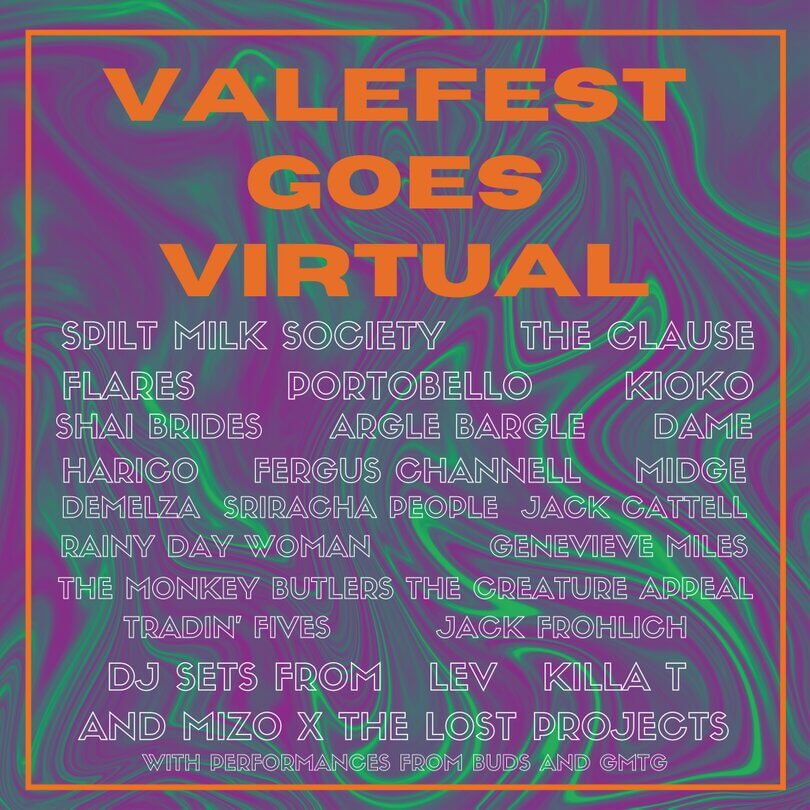 Due to COVID-19, our 2020 festival was unfortunately cancelled, but that didn't quite stop the show! For the first time in ValeFest history, we moved the entire day online and hosted a ten-hour live stream which reached over 30,000 people.
The line-up was jam packed with University of Birmingham students and alumni and included: Spilt Milk Society, The Clause, Flares, Portobello, Kioko, Shai Brides, Argle Bargle, DAME, Harico, Fergus Channell, Midge, Demelza, Sriracha People, Jack Cattell, Rainy Day Woman, Genevieve Miles, The Monkey Butlers, The Creature Appeal, Tradin' Fives, Jack Frohlich, Lev, Killa T and Mizo x The Lost Projects.
As well as live music and interviews from every artist, we had cooking demos from ValeFest's favourite caterers and showcased talent from various different UoB societies.
The entire stream raised over £4,000 for our 2020 charities: JustLikeUs and RSVP Birmingham and we broke our own records for the amount of merchandise sold. We still love seeing you rock our Old Joe t-shirts on campus.
We've never been able to say this before, but if you want to relive the entire 2020 festival, you can do by checking out the stream over on our Facebook page here
ValeFest 2019: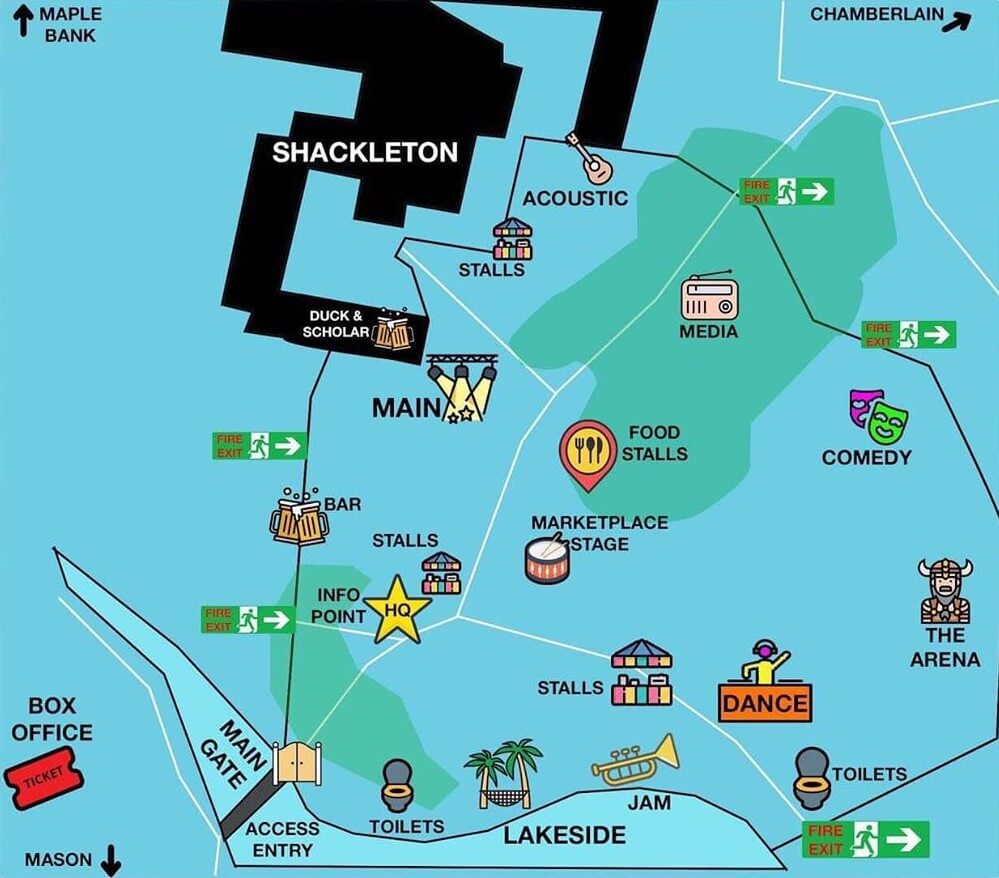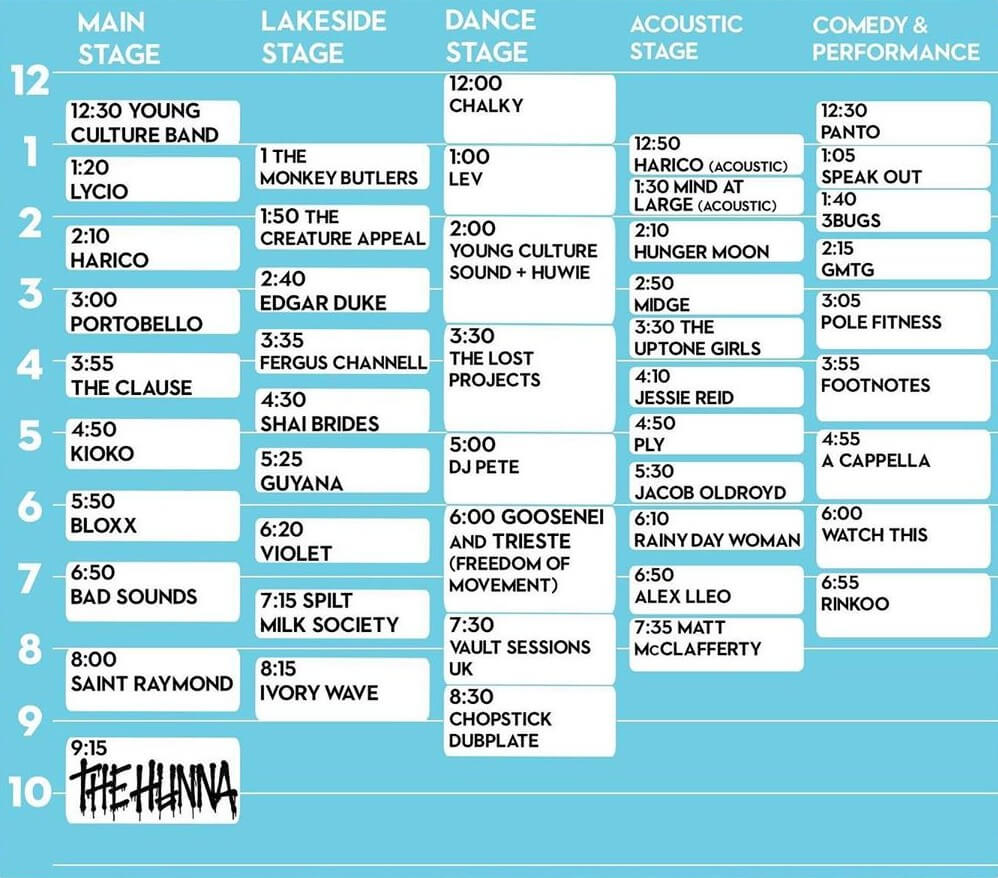 Get to know the artists:
Main Stage
The Hunna We are proud to announce that the headliner of the Main Stage for ValeFest 2019 is one of the UK's most in-demand bands, The Hunna! Since the release of their debut album '100' in 2016 and 'Dare' in 2018, The Hunna have been hugely successful in making a name for themselves, selling out shows around the world! One of the hottest rock bands around, they have secured themselves slots at various festivals this summer including Reading and Leeds' main stage and TRNSMT festival! Don't miss out on the chance to see one of the most thrilling touring bands on the circuit perform live on the Vale!
SAINT RAYMOND After bursting onto the music scene at the age of 18, Saint Raymond was immediately picked up by the music press as being destined for big things… and they weren't wrong. Raymond's indie pop anthems have supported the likes of Aplin and HAIM. After being snapped up by Ed Sheeran's home record label, Raymond's EP was named as Zane Lowe's Hottest Record in the World on his BBC Radio 1 show.
BAD SOUNDS Brothers Ewan and Callum didn't always see eye to eye musically. Ewan's playful spirit with samples and hip-hop beats didn't appeal to Callum who was obsessed with the soul, pop and R'n'B sounds from Marvin Gaye and Curtis Mayfield. Since combining forces with bandmates Olivia, Sam, and Charlie, Bad Sounds has a vibe like no other.
BLOXX Praised for being a female fronted Alternative band, BLOXX's sound merges driven guitars with melodic pop and gripping riffs to create infectious tunes with an added indie flare. London based BLOXX have gone from strength to strength and are set to join The Wombats in June for 3 dates and have recently supported Sundara Karma.
KIOKO Kioko used strong lyrics and rhythmic melodies to spread a message that fits in with today's ever-changing society, a message of realness and respect to others is one that they will continue to see through in their new release. As well as being solid in the studio, Kioko pride themselves on giving a high standard of lively and memorable shows with high adrenaline and energetic performances set to win over audiences old and new.
THE CLAUSE We had the pleasure of hosting The Clause as the headliner for our Launch Party and cannot wait to welcome them back to our MainStage for ValeFest 2019! Described as having a 60's swagger with an 80's groove and a 90's attack, the 4 piece alternative group have a particularly nostalgic vibe, still taking inspiration from the biggest choruses in Indie Rock records.
PORTOBELLO Portobello had a great gig at our Launch Party and had the place bouncing. A newly formed band from the University of Birmingham, Portobello take inspiration from the likes of Tom Misch and John Mayer and we can't wait to see them blow up.
HARICO UoB born band harico also gave the crowd at our Launch Party a set to remember! Their approach to indie music has drawn comparisons to art rock of Everything Everything with the new wave sensibilities of Depeche Mode and disco steak that the Bee Gees wouldn't be ashamed of.
YOUNG CULTURE BAND Young Culture Band are a 6 piece roots reggae revival band local to us in Birmingham! With influences including Bob Marley and The Wailers and Steel Pulse, reggae fans will certainly not be disappointed by these tunes.
Lakeside stage
Ivory Wave Since 2016, this Brummie five piece have grown from playing at pubs in and around Birmingham, to securing support slots for bands such as the DMA's, The Twang and Superfood, as well as selling out their own huge hometown shows with their indie, house style music. 2019 is sure to see more music and bigger shows from these local heroes.
Spilt Milk Society You might recognise Spilt Milk Society as they have supported previous ValeFest performers, Fickle Friends and Marsicans, as well having over 3 million streams on Spotify, resulting in them signing a contract with a music label and touring their and releasing their own clothing range.
Violet Described as having a indie spark with a mixture of 90s Grunge and Britpop, Violet have created a unique, captivating sound and have released three critically acclaimed singles which were played by Steve Lamacq on his 6msuic radio show.
Guyana Following the success of their performances at both ValeFest 2017 and our Launch Party in March, we are proud to announce that Guyana are returning again to perform for us this year! Encapsulating school-boy lyricism, their music successfully blends tales of concern and camaraderie with catchy lead guitars and energetic drum beats, leading to them played on BBC Introducing.
Shai Brides Comprised of a group of students from Birmingham, Shai Brides hectic pop music brings together psychedelic guitars with glittering synths and blistering drum beats. Following successful gigs at venues such as The Sunflower Lounge, the band are venturing into the studio to record their first single, so now seems the perfect time to start paying attention to this evolving five-piece.
Fergus Channell After the success of his performance at our Launch Party earlier in the year, we are excited to confirm that Fergus Channell will return to perform at ValeFest 2019! He successfully fuses inspirations of jazz, alternative and soul to create a unique mellow sound, the perfect accompaniment to the serenity of the Vale Village.
Edgar Duke Edgar Duke are an alternative rock band whose success in their hometown of Leeds has led them to begin taking over other cities across the country. Their music resembles the likes of The Vaccines and Tame Impala by combining heavy guitar solos with rhythmic drums which creates an excitingly energetic atmosphere at their gigs.
The Creature Appeal This tight knit group of friends from Birmingham are an electric, four-piece, indie-rock band whose innovative voice and original songs made them one of the noteworthy up-and-coming, independent bands of 2018. The Creature Appeal have a big city sound, creating intense indie anthems whose wild instrumentals and soulful vocals make them perfect for your summer playlist.
The Monkey Butlers Fusing the genres of rock, jazz and blues, The Monkey Butlers are an 8-piece band whose good sense of humour is guaranteed to create a memorable show full of antics and definitely worth a watch.
Dance Tent
We have an incredible lineup for our Dance Tent this year with headliners Chopstick Dubplate who are an award-winning collective of DJ's, producers and vocalists who are bound to get the crowd dancing! Other performers include: Vault Sessions UK, Goosensei & Trieste, DJ Pete, The Lost Projects, Young Culture Sounds + Huwie, LEV and Chalky.
Acoustic Stage
Gracing us with some more chilled out tunes, we have Matt McClafferty headlining our Acoustic Stage followed by other extremely talented artists including: Alex Lleo, Rainy Day Woman, Jacob Oldroyd, Uptone Girls, Ply, Jessie Reid, Midge, and Mind At Large.
ValeFest 2018: