Official Valefest 2022 Lineup
Previous ValeFest Line-ups:
ValeFest 2020: ValeFest Goes Virtual
Due to COVID-19, our 2020 festival was unfortunately cancelled, but that didn't quite stop the show! For the first time in ValeFest history, we moved the entire day online and hosted a ten-hour live stream which reached over 30,000 people.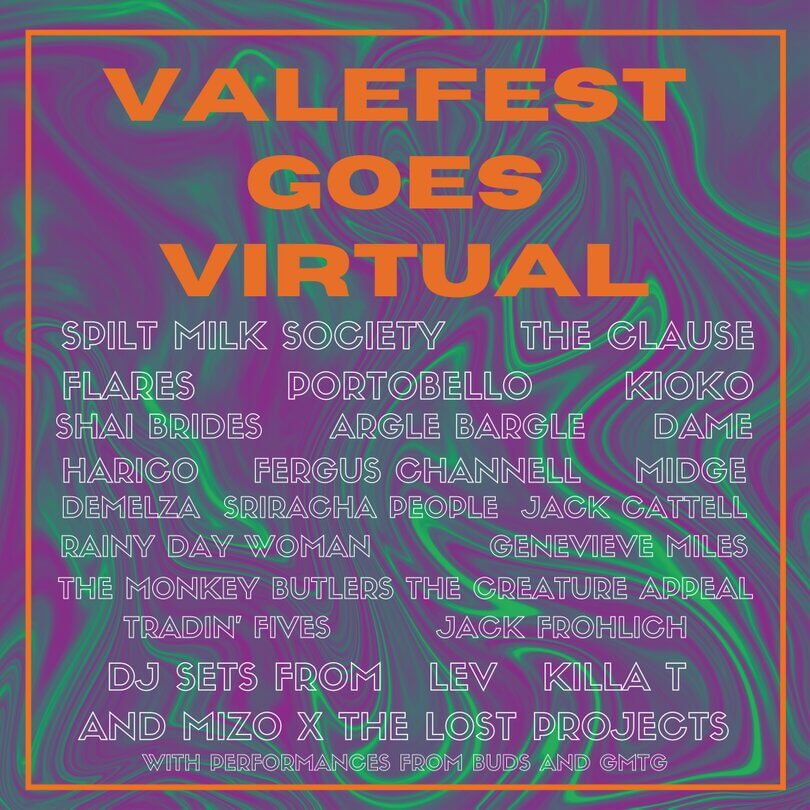 The line-up was jam packed with University of Birmingham students and alumni and included: Spilt Milk Society, The Clause, Flares, Portobello, Kioko, Shai Brides, Argle Bargle, DAME, Harico, Fergus Channell, Midge, Demelza, Sriracha People, Jack Cattell, Rainy Day Woman, Genevieve Miles, The Monkey Butlers, The Creature Appeal, Tradin' Fives, Jack Frohlich, Lev, Killa T and Mizo x The Lost Projects.
As well as live music and interviews from every artist, we had cooking demos from ValeFest's favourite caterers and showcased talent from various different UoB societies.
The entire stream raised over £4,000 for our 2020 charities: JustLikeUs and RSVP Birmingham and we broke our own records for the amount of merchandise sold. We still love seeing you rock our Old Joe t-shirts on campus.
We've never been able to say this before, but if you want to relive the entire 2020 festival, you can do by checking out the stream over on our Facebook page here