ValeFest is very excited to announce that our theme for this year is self-love and our Chair George Westwood has rightfully said: "everyone could do with a bit of love in 2020".
Therefore, we are incredibly proud to be working with the Rape and Sexual Violence Project (RSVP) and Just Like Us UK.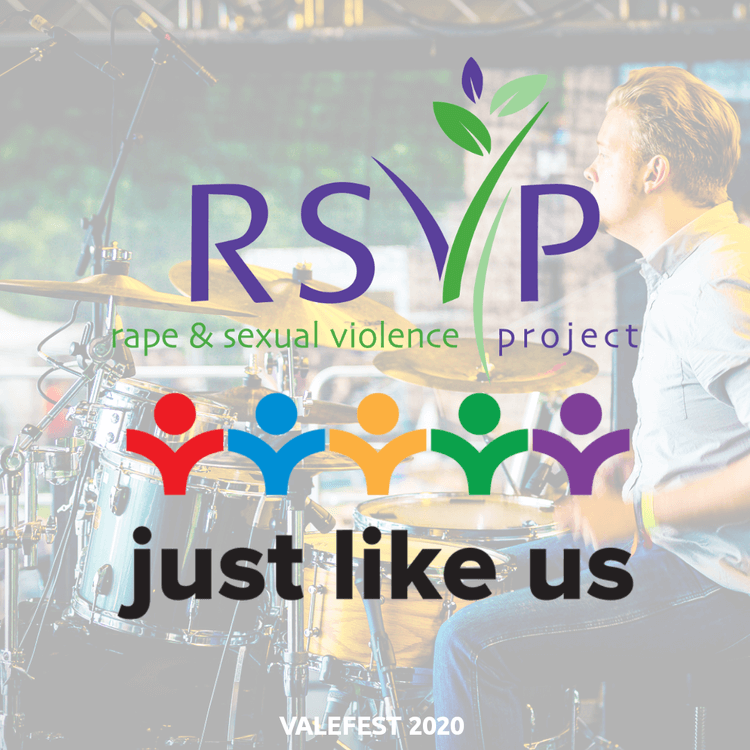 We raised a staggering £20,053 for RSVP back in 2017 which allowed them to support 356 children and young people across Birmingham and Solihull, 293 more than the year before ValeFest. Thanks to this donation, RSVP were able to improve the wellbeing of sexual violence victims, allowing them to have a sense of hope for their future. Ultimately as RSVP have said our donation has been paramount in "bringing about such amazing life-changing outcomes for children and young people". RSVP are hoping to use the money raised this year towards exploring the possibility of expanding their outreach and supporting students by setting up in Selly Oak.
Just Like US support and empower the LGBTQ+ community. In 2019, they recruited, trained and supported over 100 LGBTQ+ university students to become Just Like Us Ambassadors who delivered talks and workshops to over 20,000 students in schools. They also ran School Diversity Week which reached 1.4 million school children. ValeFest will allow Just Like Us to continue and expand their projects supporting LGBTQ+ individuals.
On its sweet sixteenth, ValeFest 2020 will be spreading the love throughout the year and at the festival itself. We are aiming to raise more than ever before and we couldn't do it without the wonderful support of UoB students, the Birmingham community and beyond.
"We know that the money is going to good, local causes and we can't wait for the 2020 festival. The committee works extremely hard throughout the year to make ValeFest a success and we can't wait to see you all there!"

- George Westwood
Keep an eye out on our social media channels so you don't miss a thing!
#valefestiscoming 06/06/2020
---
ValeFest has previously supported:
ValeFest 2019: St Basil's, Sense, Kids Adventure
ValeFest 2018: Sifa Fireside, Shelterbox UK
ValeFest 2017: RSVP West Midlands, BasicNeeds
ValeFest 2016: Birmingham Children Hospital Charity, The Against Malaria Foundation
ValeFest 2015: Child Poverty Action Group, Medic Malawi
ValeFest 2014: Macmillan Cancer Support, Trekstock
ValeFest 2013: Students Against Depression, YoungMinds
ValeFest 2012: Action for Children, War Child
ValeFest 2011: Helen Bamber Foundation, the Calla Trust
ValeFest 2010: Oxfam, Procedo Foundation, the Malaria Consortium